Production of automotive body parts
Our company mainly produces pressed and welded body parts for the automotive industry, by metalworking, welding and finishing processes.
The essence of the process is to first cut the 0,5-5 mm thick, different quality steel rolls into different sized parts and shapes.
After that, we produce the semi-finished or finished parts from the prepared material, using a step by step or progressive technology pressing or punching on a punch-press machine.
The pressed parts are then assembled by our experienced welding experts, with resistant welding machines and four YASKAWA MOTOMAN robot welding machines, and if needed, supplemented with fasteners.
Some parts are galvanized in the last stage of the process. Assembly processes were added to our portfolio in 2013.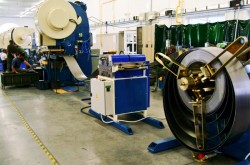 | Type and Power | Size | Pcs |
| --- | --- | --- |
| TOTAL | | 58 |
| DKS-25T Excenter press | 375×500 | 6 |
| DKS 40T Excenter press | 450×630 | 1 |
| LEN 40T Excenter press | 530×660 | 4 |
| DKS 63T Excenter press | 520×700 | 4 |
| LEN 63T Excenter press | 620×800 | 12 |
| LEU 100T Excenter press | 600×900 | 1 |
| DKS 100T Excenter press | 630×850 | 1 |
| SD 100T Excenter press | 630×850 | 1 |
| LEXN 100T Excenter press | 640×1000 | 4 |
| LEPA 100T Excenter press | 690×1040 | 3 |
| AIDA 110T Excenter press | 680×1780 | 1 |
| LEK 160T Excenter press | 680×1640 | 1 |
| LEK 160T Excenter press | 690×1000 | 1 |
| LDC 160T Excenter press | 780×2000 | 2 |
| AIDA 200T Excenter press | 680×1880 | 1 |
| KOMATSU 200T Szervo press | 850×2150 | 1 |
| LEK 250T Excenter press | 800×1800 | 1 |
| LDC 250T Excenter press | 880×2450 | 2 |
| LKT 250T Excenter press | 1200×1585 | 1 |
| ZANI 300T Excenter press | 1100×2000 | 2 |
| ZANI 400T Excenter press | 1100×2000 | 1 |
| ZANI 400T Excenter press | 1200×2500 | 1 |
| ZANI 400T MotionMaster | 1400×3000 | 1 |
| ZANI 500T Excenter press | 1250×3000 | 1 |
| ZANI 500T Excenter press | 1400×3500 | 1 |
| ZANI 630T MotionMaster | 1400×3500 | 1 |
| ZANI 630T MotionMaster | 1800×4000 | 1 |
| ZANI 1200T ServoMaster | 1800×4500 | 1 |
| Type | Output | Pcs |
| --- | --- | --- |
| TOTAL | | 22 |
| ZPF-25 | 25 kVA | 1 |
| P-32 | 30 kVA | 1 |
| TZS-B-40 | 40 kVA | 1 |
| P8-630-6.3 | 40 kVA | 1 |
| PF-151 | 50 kVA | 1 |
| PF-161 | 60 kVA | 4 |
| M 14-250-5E | 80 kVA | 1 |
| PF-181 | 80 kVA | 7 |
| M14-260-5E | 150 kVA | 1 |
| YASKAWA MOTOMAN welding cell | | 4 |